(
SYLC 28
)
Routines. I've said before that they are
not my thing
. I read somewhere that routines were the death knell of the creative mind. The fact is I get pretty bored doing the same thing over and over. And that's definitely the case when it comes to cleaning.
Cleaning and I have a love-hate relationship. I love a clean, uncluttered space in which to operate. If there's heaps of stuff lying around I can't concentrate well at all. I get distracted by mess and want to clean it up. But I also hate spending precious free hours scrubbing the bath when I could be reading, out riding my bike, writing, or having a pot of chai with a friend. So really, I tend not to do it until I get to the point of not being able to put up with it any longer.
I have a theory that people are either of the following
two types of cleaners:
micro vs macro
. Micro cleaners are people who actually clean the windows and mop the floor on a regular basis. They can deal with piles of books and scattered toys, but they like the bathroom to be sparkling at all times, the carpet vacuumed and the sink to have a shine to it. There may have piles of books, but there's no dust building up on them. Macro cleaners on the other hand are people who can put up with the soap scum and a bit of fluff on the carpet, but spaces must tidy and free of clutter. There is no pile of books unless it's there for a reason - and if there is one, it will probably be dusty.
I am definitely a macro cleaner. I have no problem spending five mins at the end of my day setting my place straight. I make my bed every morning, after I use something I put it away. It makes me calm and happy. However, I don't routinely clean the bathroom or the kitchen sink. I probably clean my windows once a year in spring when the weather warms. I dust when people come to stay.
And do you know what? I'm happy with these non-routines. My place is not sterile, but it's clean enough. The floors get swept every few days, and washed every few weeks when I can see they probably need it. The kitchen sink much less often. But to me it's not important. What is important is the time I spend following my passions - being creative, connecting with people. To do this happily, I need a clutter-free space to play and to entertain. But I personally don't need a sparkling home.
So there it is. My non-routine cleaning. I'm off to have join a friend for chai even though the bath needs a good scrub!
Note: if you're interested in alternatives to commercial cleaning products, this is a great
post on home-made products
.
Are you a macro or micro cleaner?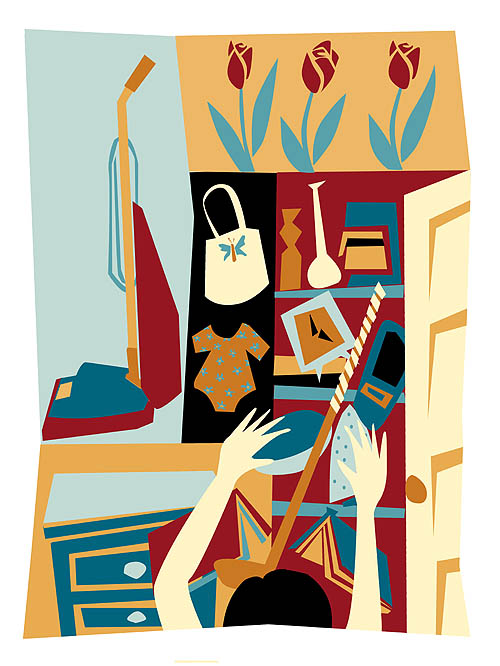 Anita Dufalla/Post-Gazette illustration